Personal gifts that bring joy
Five steps to your individual and personal Christmas baubles: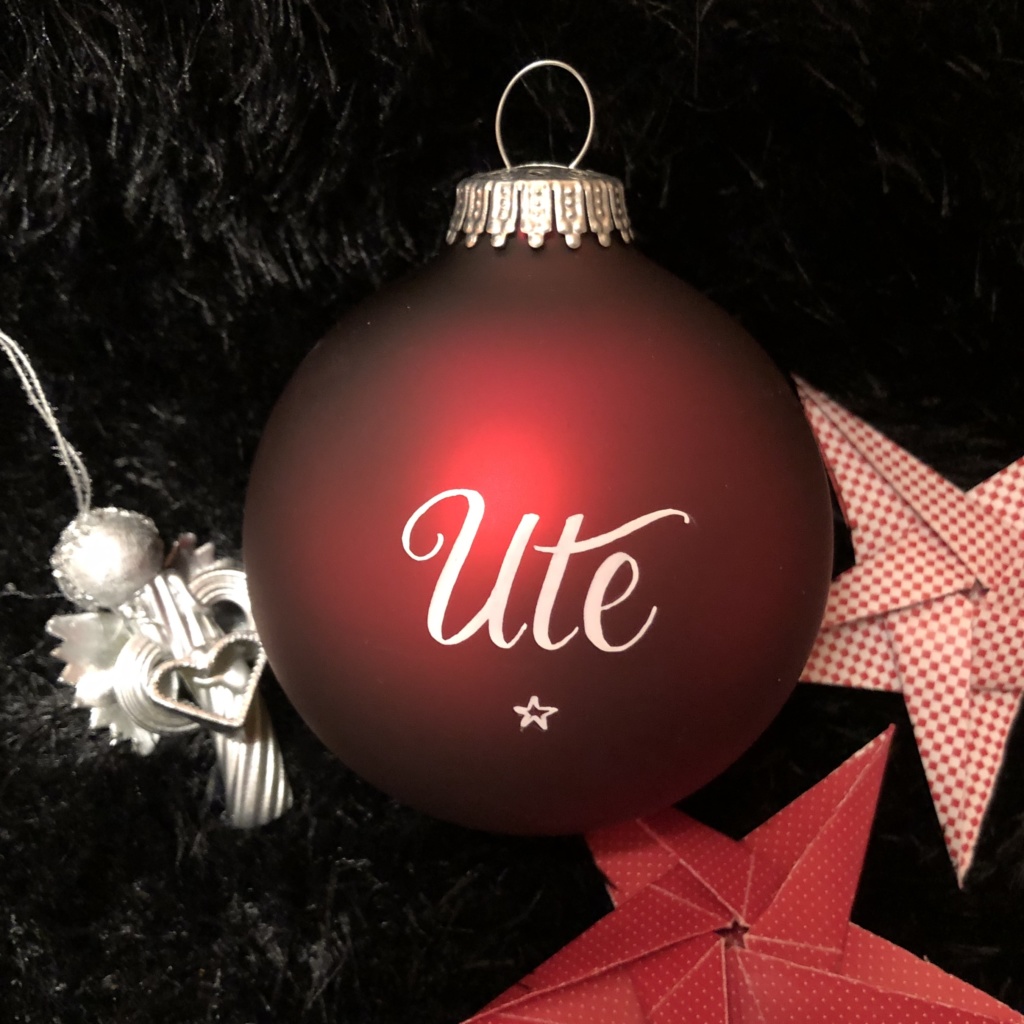 Price: from 10,00 Euros per bauble plus shipping and packaging costs
.
Step 1: Choose a ball colour
Which colour do you like best? Cream? Wine-red? Red? Dark Raspberry…?

For other colour requests please contact us briefly.
Step 2: Selecting a design for the front panel
Design A:
Handlettered name or 'Merry Christmas'
A Christmas gift cannot be more individual than with the name of the person to be presented. We would also be happy to paint a neutral "Merry Christmas" or "Merry Christmas" in an artful font on your ball. If you would like to have more than two names (words), this is of course also possible – for each additional name/word we will charge an additional Euro. Please just tell us your wishes.
Design B:
Poem, wish or dedication
Please give us your desired text.
Ideal are shorter texts with a maximum of 40 words. If you are unsure whether your text is possible, simply contact us by e-mail. We will gladly advise you.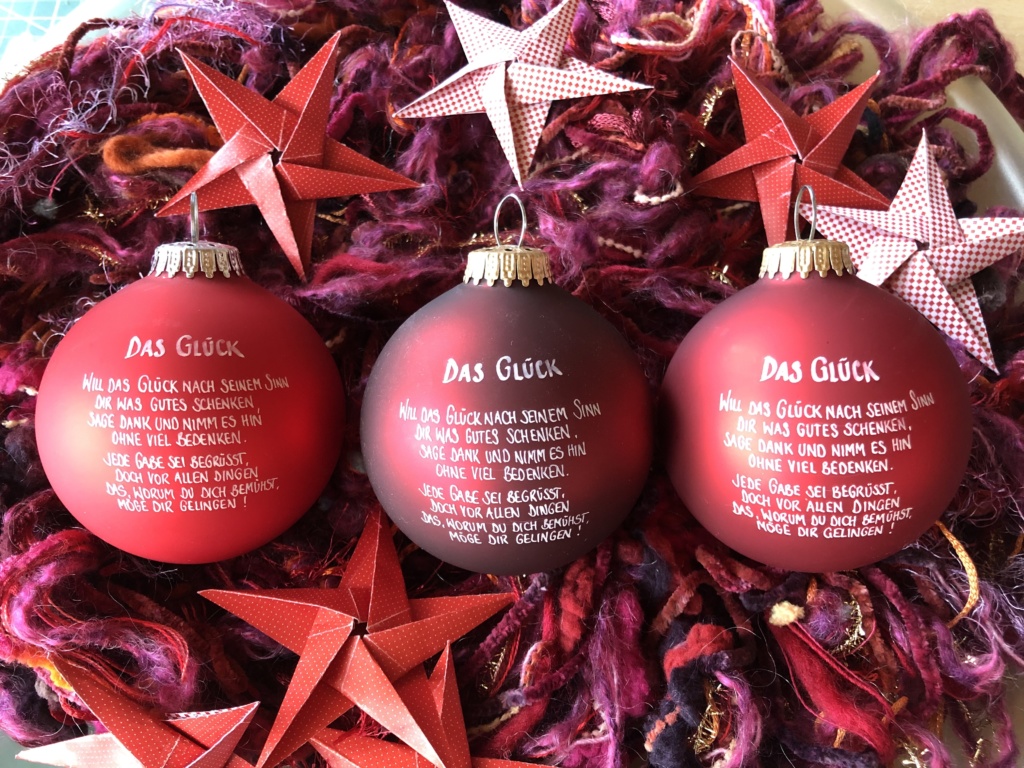 Step 3: Design of the back side (optional)
If you like, we'll paint your favorite star or a heart on the back. Please add 1,00 €.
Please choose from one of the six design patterns: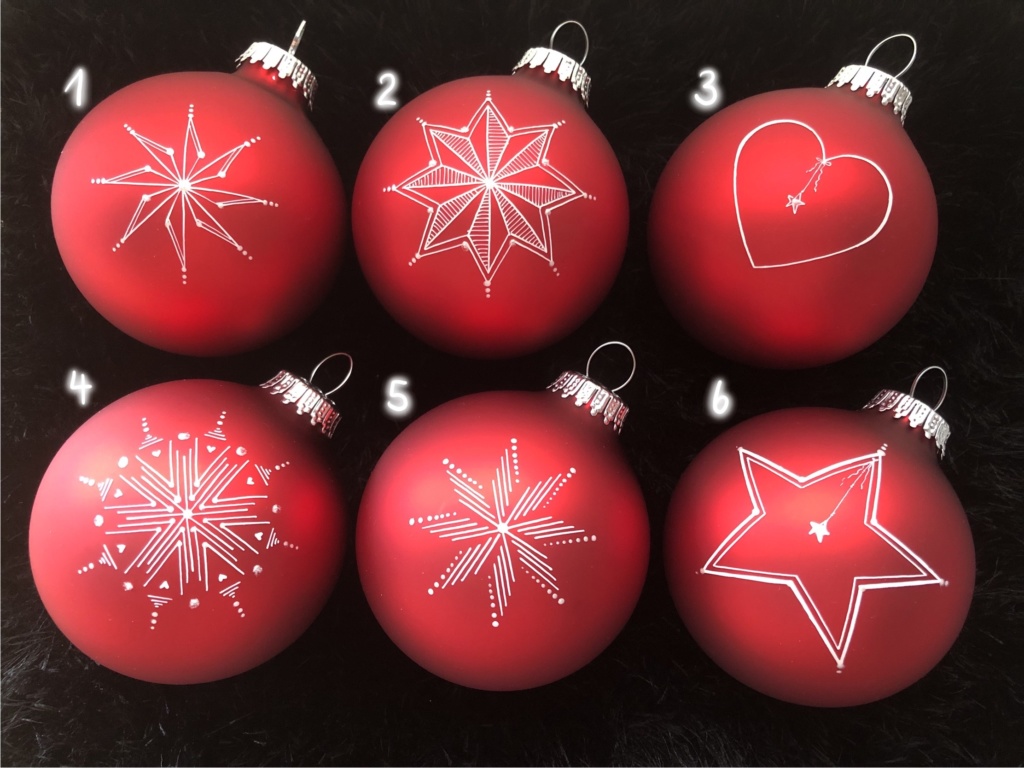 You can also combine Design A + B with each other. So on one side one or two names and on the other side a poem or wish. Please calculate with a small surcharge of 2,00 € per ball.
Step 4: Select your
favourite

font

Do you want a curved art script on your ball? Or do you prefer a modern, clear typeface?
Please choose.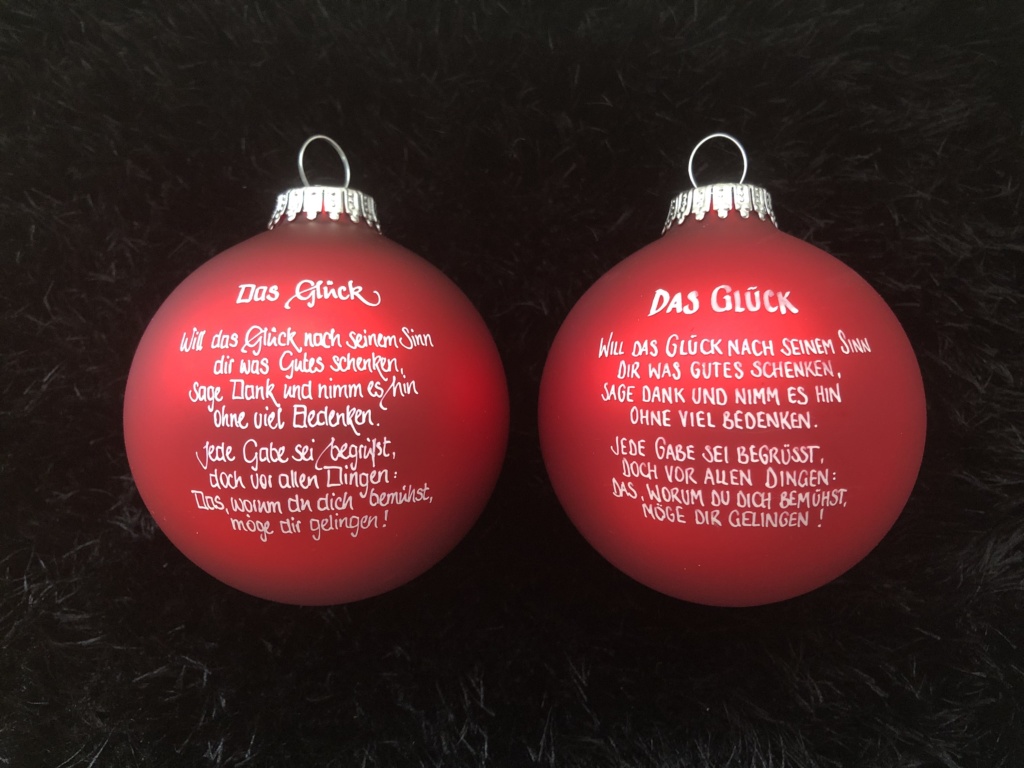 Step 5: Place your request
You are welcome to send us your inquiry by e-mail.
Then we can discuss your wishes and the dates. We will be happy to prepare a personal offer for your.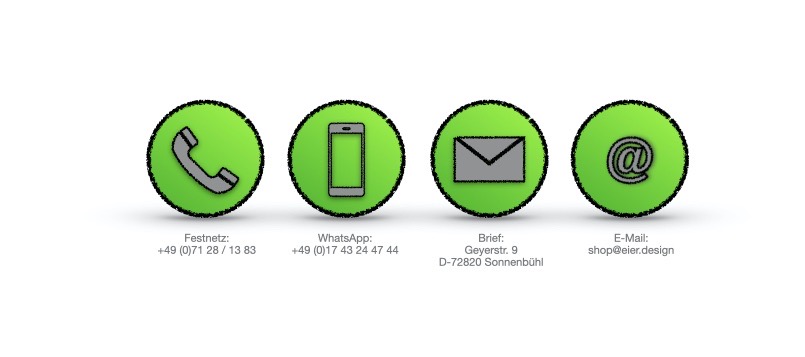 Shipping and packing costs
We send our products as a package with the German Postal Service or DHL.
Depending on the products and/or quantity it is necessary to send them in several packages.
The shipping costs within Germany are 7.50 € per parcel. If you would like to have your order shipped to another EU country, please take into account the increased postage costs for the respective country. Deliveries outside the EU are rather complicated due to a multitude of regulations and laws and are therefore only possible after a separate check.
For each order we charge – in addition to the postage costs – packaging costs of 5.00 €. From an order value off 100.00 € this item is not applicable.
As a small business within the meaning of §19 para. 1 UStG, no value added tax is charged.
General notes and information about the individualized Christmas baubles
We describe and design all balls by hand and as a wonderful hobby. Please keep in mind that longer postal delivery times are to be expected when shipping abroad. We will contact you as soon as we have received your request with further details.
The balls have a diameter of about 8 cm and are made of real glass. We purchase the quality products in the above mentioned classic colors from a German company. Occasionally we also offer glass balls from standard assortments. We process only perfect goods, but minor color deviations etc. cannot be excluded.
For the inscription we use liquid acrylic paint. The ornaments are also designed with acrylic paint, as well as with various metallic and glitter materials. The balls are suitable for interior decoration.